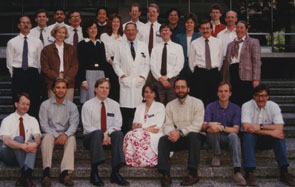 The Division of Hematology & Medical Oncology has a rich tradition of medical discovery, clinical care, and education of some of the field's most prominent leaders. That tradition is punctuated by a few pivotal events.
1976: Though the division existed prior to 1976, it was a small and relatively static group. There was one faculty member in oncology, one in hematology, with a few affiliated physicians. There also was a link to the Cancer Research Institute – an organized research unit at UCSF – but the division had no dedicated labs.
When current faculty member Marc Shuman, MD, arrived, he suggested a concept that at the time was relatively rare: a faculty group practice. That change was instrumental in attracting fellows and generating resources directly for the division; it also occurred at a time when medical oncology had begun to arrest an increasing number of formerly fatal cancers. The combination of these factors galvanized the faculty and yielded a vision to pursue the very best in research and clinical care. Largely by drawing on its outstanding fellows to fill emerging faculty roles, the department began a steady climb that continues to this day.
1999: The division's growth received a considerable boost when UCSF, with strong urging and participation from the division, successfully applied to become a comprehensive cancer center, a designation of the National Cancer Institute. The Cancer Center created an interdisciplinary home for both bench and clinical research, in which our faculty members are important participants. In turn, by building relationships with a burgeoning biotechnology industry and supplying some of its finest researchers, the Division of Hematology and Medical Oncology became central players in some of the world's most important clinical trials. That role continues to expand as new biologic therapies complement today's chemical, radiation, and surgical techniques.
2011 and beyond: Today, the UCSF Division of Hematology and Oncology is an internationally renowned group of clinicians and scientists. We produce a steady stream of groundbreaking research from over a dozen dedicated labs and multiple, leading-edge clinical trials, even as we conduct over 10,000 patient visits and consults each year. Those numbers represent staggering growth from our humble origins.